More info
Vividly Record As You Hear
Binaural microphone and earphone BME-200 is a binaural microphone with good sound quality and easy to use. It is also favorite for professionals.
BME-200
Feature of binaural microphone capable of recording full of realism in various scenes

Microphone Features

Characteristics to capture the sound evenly from the low to high ranges, even the dynamic sound of steam locomotives
Windscreens essential for outdoor recordings are attached
Highly sensitive microphones can capture not only the sound but also the surrounding atmosphere
Great fidelity even for the most complex sounds such as crashing waves and fizz of tiny bubbles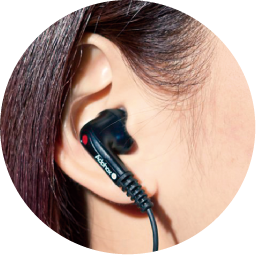 BME-200 Earphone Features

Designed to tolerate amplification up to 50dB without howling,
enabling to monitor the stable sound while recording
Highly sensitive to reproduce the sound even in the tiniest details
1 Making you feel as if you were there in that moment

At sports day – the announcements or cheers exactly in the ways you heard. At the concert – the entire surrounding atmosphere with applause on top of the musical performance. Using the BME-200 as an external microphone for your camcorder at sports day, you can enjoy the lively sound through headphones; hearing the announcements in front of you and the cheers echoing behind you.
2 Music asset and academic use

Characteristics of high fidelity and flat sound enabling high reproducibility. suitable for recordings of academic studies and musical instruments.
3 ASMR

Suitable for ASMR*recordings such as the sound of combing hair and whispering voice by the ear. *Stands for Autonomous Sensory Meridian Response: An experience characterized by tingling sensation or pleasant feelings triggered by stimuli toward the auditory sense, etc.