Our dehumidifier is made in Japan and has
low running cost and high-performance.
FEATURES
◆ Compact type, but high-powered dehumidification :
The product dimensions are H570 x W202 x D365 (mm), but CD-1516 is equipped with a compressor that dehumidifying capacity is25 liters per day.
You can use CD-1516 in a small space and CD-1516 can dehumidifyeasily and surely at different situations. In addition, you can count onCD-1516 to dehumidify a spacious room, such as a living room.
◆ Quick drying for clothes :
CD-1516 has four optimum drying modes, such as Eco mode and Thick mode.
So, you can choose from these modes depending on your needs.
CD-1516 is able to dehumidify clothes quickly, with economy anduniformly because vertical and horizontal wide swing auto louvers are mounted.
◆ Quiet operation design :
Twin rotary compressor is installed and low vibration sound and low operation sound have been achieved.
The minimum operation sound is 37.5 dB that is quieter than rain sound.
Therefore, the operation sound does not disturb your daily life.
◆ With 10 years validity virus suppressive, anti-bacteria, deodorant filter :
The filter has long-lasting effect on viral suppression, sterile filtration and deodorizing, and has efficacy for different living environments, such as a room with cigarette smoke or pet odor and when a child is in a room.
Dehumidifier CD-1516
- Powerful dehumidification even in a large living room
 ・ High-power dehumidification capacity: 15.2 L/day

- Twin rotary type compressor
 ・ Low-noise during operation

- Virus-inhibiting bacteria-eliminating deodorant filter
 ・ Continuous use of filter for 10 years without change

- Large enough for continuous dehumidification
 ・ Large-capacity drainage tank: 4.5 L

- Vertical and horizontal air blow louvers
 ・ Drying laundry evenly
Product Specifications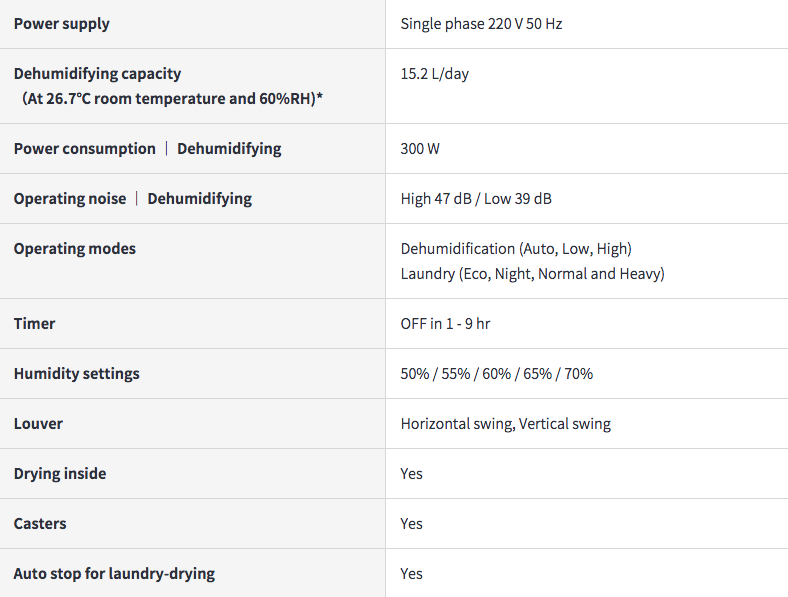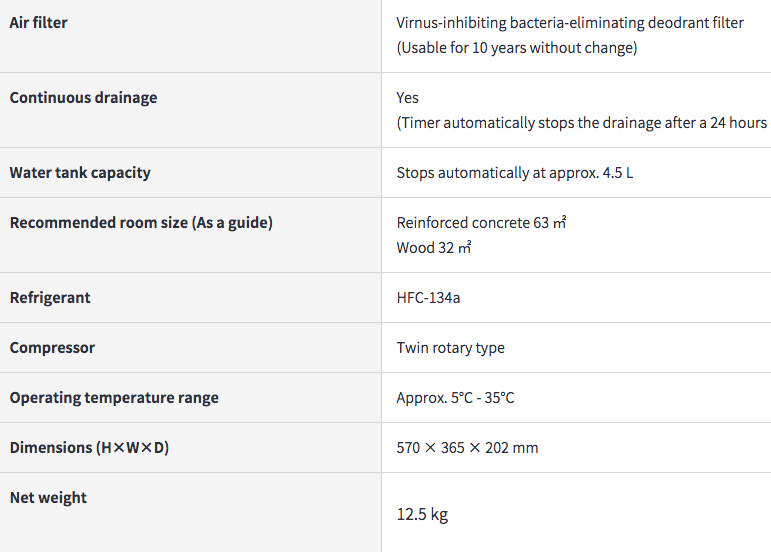 * The dehumidifying capacity is the averaged amount of moisture removed per day (24 hours).
User friendly operating panel